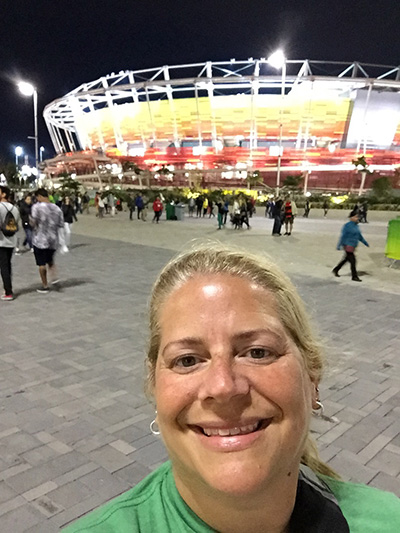 Stephanie in RIO for the Olympics
I founded All About Sports because I believe in the power of sport to improve people's lives and change the world. I have had the privilege of working with some of the most amazing athletes, brilliant coaches, award-winning journalists, and the top sports minds at all levels of the game. I have learned something from each experience, and through All About Sports my goal is to help as many sports organizations as possible make an impact in their communities.
I was born into a sports-loving family in Emmaus, PA and encouraged by my mom and dad to pursue my dream of working in sports (even though at the time it was unheard of because I was a girl). My athletic ability is inversely proportional to my love of sports (and I love sports A LOT) so I knew my talents would better suit me for an off the field role. I grew up loving the Yankees, Penn State Football, and reading as many sports sections and sport magazines I could. ESPN was a godsend. My first job was covering local sports for the weekly newspaper, the East Penn Press. (I was too young to drive so my parents dutifully carted me around from one remote field or stadium to another.) Once I realized that sports could become my vocation, I was hooked. It's been a common thread throughout my academic work and my professional career.
My dream job as a kid was to work for the New York Yankees, and I had the opportunity to serve as their Editor in Chief. I covered baseball for the Associated Press and mlb.com. I helped develop hockey programs in minority communities for the NHL. For the last 17 years I have called Toronto home and have worked for and help lead some of the largest sport organizations in Canada including Varsity Blues Athletics and Ontario Soccer.
In my spare time I have travelled the globe to the Olympics, Women's World Cup, Men's World Cup and myriad events like the Kentucky Derby, Rose Bowl, and MLB All Star Game. My life has been All About Sports and now I want to share my knowledge and experience with all of you.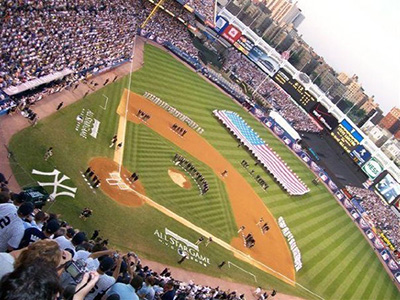 MLB ASG at "Old" Yankee Stadium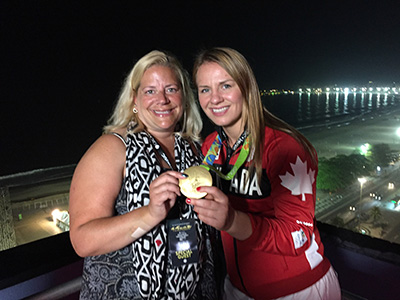 Olympic Gold Medalist Erica Wiebe